Specific resources for Navier lab
Your referring librarian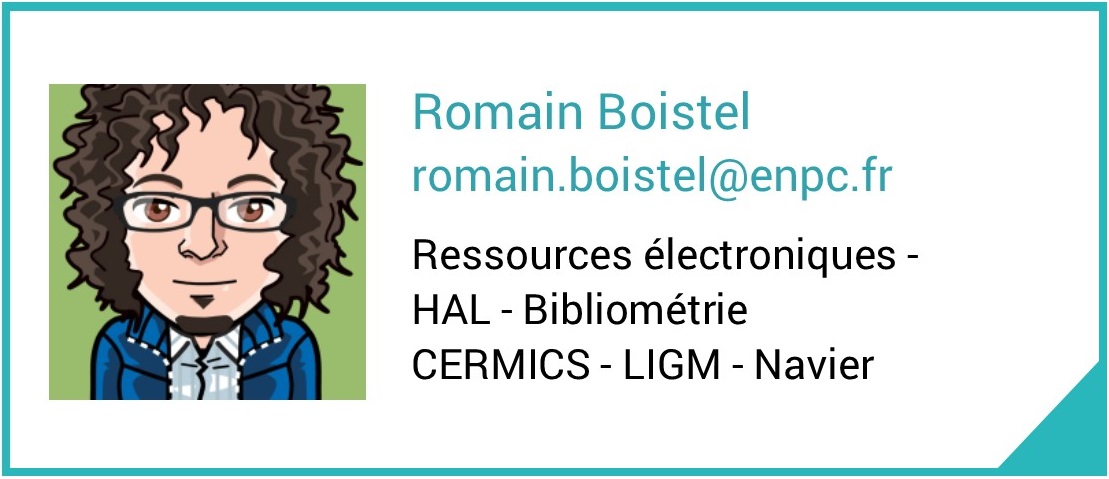 Resources


   Canadian geotechnical journal (from 1996 to the present time)

   Cetim Information


   Geomechanics and geoengineering (
de 2006 to the present time
)


   Geotechnical testing journal (
de 1978 to the present time
)


   Geotechnique (
de 2003 to the present time
)

   Ground engineering

   Industries et technologies


   International journal of space structures (
de 1999 to the present time
)


   Journal of applied mechanics (
de 2000 to the present time
)


   Journal of the acoustical society of America (
de 1929 to the present time
)

MathSciNet

   Mesures


   Proceedings of the ICE - Ground improvement (
de 2003 to the present time
)


   Revue Française de Geotechnique (
de 1977 to the present time
)

   Séquences Bois

   Soils and foundations

BibCNRS
, CNRS website, 
see tutorials here
Document collection
Consisting of a document collection specializing in mechanics and the physics of materials, structures and geomaterials, the Olivier Coussy workspace pays tribute to a prominent figure in research on Fluid and Solid Mechanics and on Thermodynamics. An engineer, scientist and teacher at École des Ponts ParisTech, Olivier Coussy (1953-2010) was the author or co-author of 80 publications and five books, including Mechanics of Porous Continua, Wiley & sons (1995). His accomplishments were rewarded by the Jean Mandel Prize (1985), the Plumey Prize (1998), and the Biot Medal (2003), of which he became the first recipient for his "exceptional contributions to the mechanics of porous media". Director of the Navier laboratory from 2003, he was also Research Director First-Class at CNRS and a Knight of the National Order of Merit.
This collection is accessible to all researchers, PhD candidates and interns at the Navier research unit. Loans are registered at the La Source library reception on presentation of a reader's card (École des Ponts badge or card provided on application to Romain Boistel (romain.boistel@enpc.fr). All researchers, PhD candidates or interns at the laboratory can borrow up to 30 documents for 180 days.
The Olivier Coussy project-space
Accessible by reservation only, the Olivier Coussy project-space is intended primarily for researchers, PhD candidates and interns at the Navier laboratory. Students in the civil and structural engineering and mechanical engineering and materials science departments can also use it, subject to reservation.
To book the project-space, if you have an @enpc.fr email address, log on to http://gestion-salles.enpc.fr/. Otherwise, contact the La Source library reception or email your request to Romain Boistel (romain.boistel@enpc.fr).